Kir Royale Wax Melt Clamshell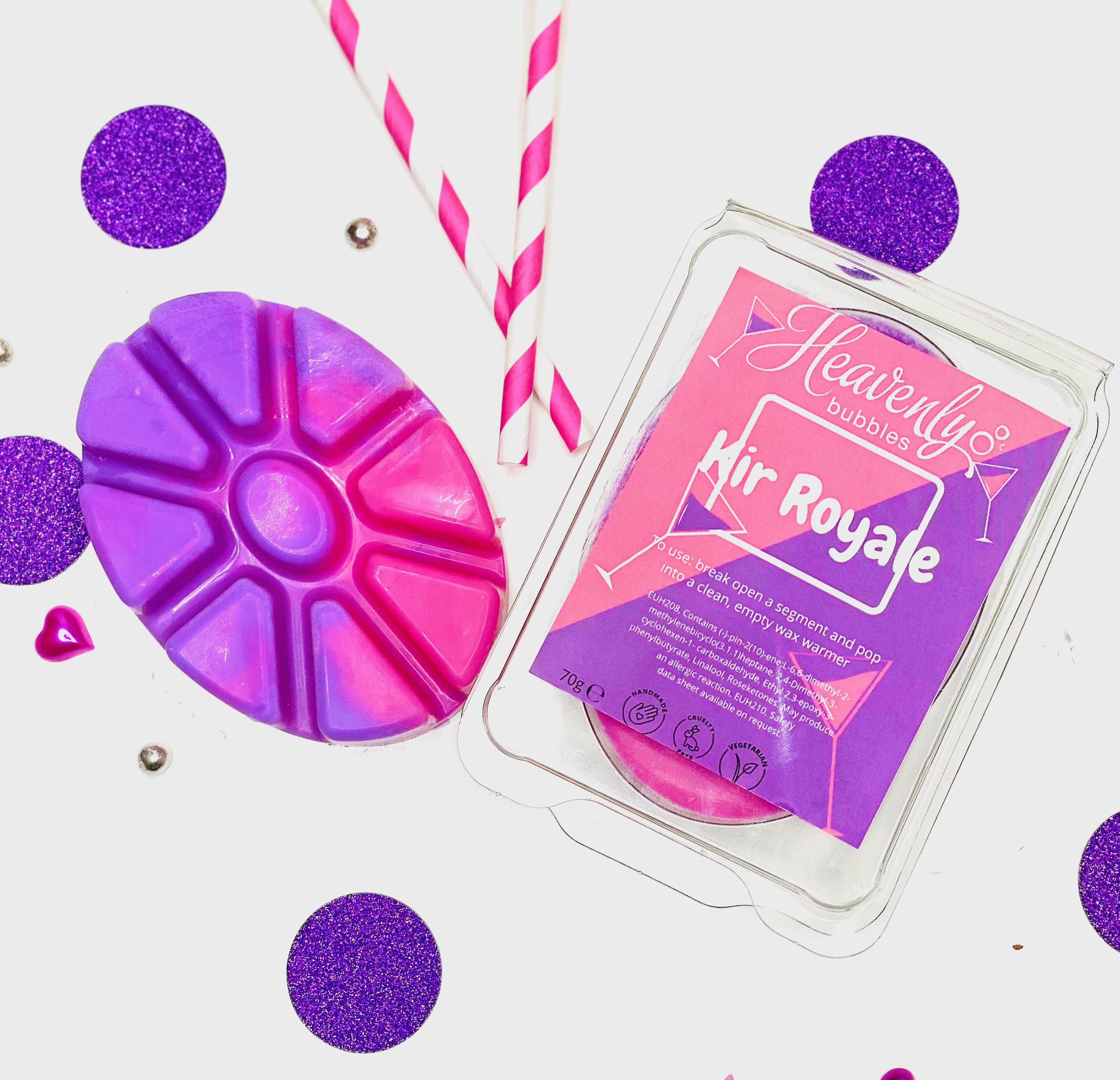 Kir Royale Wax Melt Clamshell
Our Kir Royale cocktail scented wax melt clamshell is a whole lot of fun in pretty pinks and purple! The fragrance is heavy on cassis along with champers notes, green figs, apples and florals. Made with coconut wax. 
♡ Cruelty Free: We do not test on animals and nor do our suppliers!
♡ Hand-poured with love in the UK
♡ The clamshell is made from partly recycled plastic and is recyclable. 
How to use wax melts
Heavenly home wax melts should only be used in appropriate burners. Never leave a burner unattended whilst in use. Break off 1 cube and add to your burner. If you have a large well, use a maximum only of 2 chunks. Do not overfill your wax burner. The intensity of fragrance will dependent upon your room size, burner quality, temperature of your room. For best scentilicious results, close your windows. Once the wax is spent, wait until the wax cools and then gently place pressure on one end of the wax until it pops out or use kitchen roll/cotton balls to soap up the molten wax and dispose of. Do not use cleaning chemicals or wipes to clean the burner or metal/sharp objects as this may crack or damage the burner or cause injury. These instructions will not be reiterated on your order. 
EUH208, Contains (-)-pin-2(10)-ene;L-6,6-dimethyl-2-methylenebicyclo(3.1.1)heptane, 2,4-Dimethyl-3-cyclohexen-1- carboxaldehyde, Ethyl 2,3-epoxy-3-phenylbutyrate, Linalool, Roseketones. May produce an allergic reaction. EUH210, Safety data sheet available on request.

Made using coconut wax
There are no reviews for this product.
Earn

0

reward points
WM/KIRO
Leave a review